Restoration Women's 2022 Fall Classes
**EVENT ADDED BY BranchesOfZion.org STAFF, NOT THE EVENT ORGANIZER**
---
The Restoration Women's Council will once again be sponsoring three months of spring classes. They will begin on September 6th and go through November 15th. The general theme for the classes is "Preparing for Zion and the Lord's Return. A variety of speakers will be sharing topics based on this theme. The classes will be offered via livestream. The address for the church and link is listed below. The classes will begin at 10 a.m.  All recordings will be available on Oak Grove Restoration's website, the CRE's website (in the Women's Ministry section), and on the Restoration Women's Council Facebook page. The Council prays that you will be filled with the Lord's spirit as you listen to these women share what the Lord has placed upon their heart. Many blessings to each of you!
Sister Pat Chadwick has shared the following for the month of September: This month we are going to try to strengthen ourselves spiritually. Many prophecies have been fulfilled and many more are being fulfilled even at this moment. We have taught previously on some of these topics but many have not started to make the changed needed to build Zion or meet the Lord face to face upon His return. Some have started but have grown weary and stop to just rest spiritually. So, it is that I have felt led to teach again on some of the basics of spiritual growth at the beginning of this fall session. We need a group of people who will go to work and grow spiritually and seek to perfect their lives that God's Kingdom can be brought forth.
Oak Grove Livestream Link:  https://livestream.com/accounts/4027297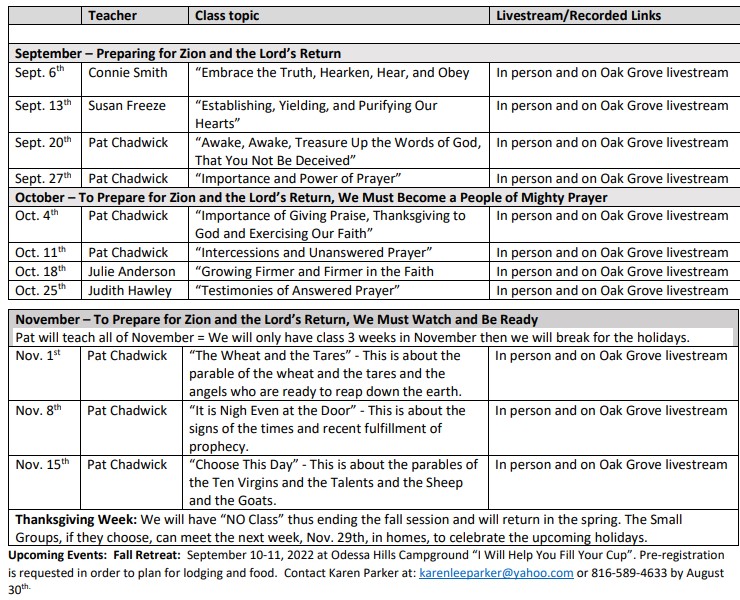 Restoration Women's 2022 Fall Classes
September 13, 2022 @ 10:00 AM

-

11:30 AM

CDT
---
---
SEE SOMETHING MISSING?
If you see an event missing from the events calendar (or see an error in a published event), please CLICK HERE to contact us.
Thank you!